Interviews
Interview by Mainly Piano
Linton's unassuming and understated beautiful acoustic guitar work will slowly swathe your musical soul.

 
With so much music to listen to and not enough time in the day to capture it all, at times good music gets passed over not because it is poor but because in this world of immediate gratification you move on to the next piece of ear candy. Guitarist Robert Linton was almost one of those victims because on first blush there is nothing instantaneous about Robert Linton's music. However, upon careful investigation the delicate and pastoral musical themes of Linton's musical world are one of reflection that will gently renew and quench your musical spirit.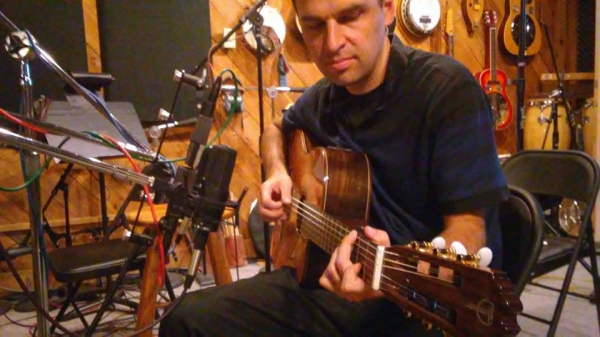 At first glance it would appear that Linton began his recording career back in 2006 via the Will Ackerman produced album
Whisperings At Nightfall
but this is not at all accurate. In fact Robert began committing to tape as far back as 2001 when demo recordings began to take shape. But it was not until three years later that Linton would record his debut
Pale Shades
and one year after that he released
Within The Outline
. Around this time Linton met guitarist/producer extraordinaire Will Ackerman who essentially took about five of his earlier creations and revamped and revitalized Robert's material as well as recording additional new compositions featured on
Whisperings At Nightfall
. Though what was most impressive was that his music was enhanced not transformed and the artist did not prominently feature Ackerman's name on the front or back cover of the album as it appeared he wanted his music to speak for itself.
Since then Linton has upped the ante and recorded two stellar albums courtesy of the unassuming and understated music of
Throughout The Autumn Light
in 2011 only to be followed up in 2016 with another laconic and unpretentious delight
Beyond The Clearing
. While they would feature some of Ackerman's A Team studio musicians and his former engineer Corin Nelsen co producing Linton's own compositions, Ackerman was nowhere to be seen. This was clear evidence that while
Whisperings At Nightfall
may have helped project Linton into the musical arena but as composer and guitarist it was not going to define him, a task he left to himself.
Nevertheless Linton has some clear musical influences and if you enjoyed the unassuming music of guitarist William Ellwood from the heady days of Narada Records, it would prove very beneficial for you to seek out the music of Robert Linton. While there are no pinnacle masterpieces found in Linton's music there is also no filler to be uncovered just high quality unassuming and understated beautiful acoustic guitar work. With a potential new recording scheduled for next year Linton has taken the time to speak with Mainly Piano.
MD:
Where were you born and raised and what are some of your fond childhood musical moments?
RL:
I was born and raised in Logan, UT. During the mid to late eighties, I lived outside of Logan in Carson City and Las Vegas, NV. Spent a few years living in Salt Lake City as well. Before playing the guitar, I started on the piano, playing simple melodies. I remember my siblings also taking piano lessons during that time then expanding into other instruments. We would eventually play music together for fun, my brother on bass guitar and I on the electric guitar. Most of the music we would play was alternative rock and metal of the 80s and 90s. My older sister and I dabbled a bit in more of the acoustic style while she was learning to play the guitar.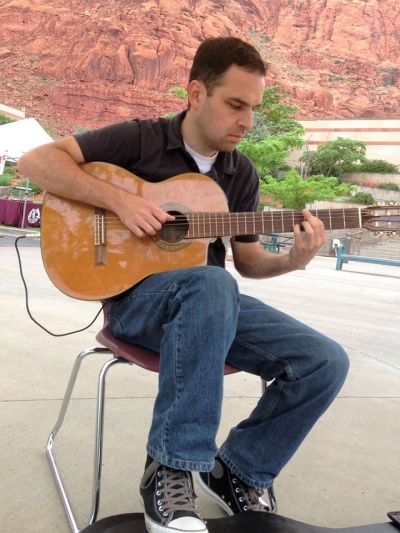 MD:
What effect if any did your family and cultural surroundings have on your musical growth?
RL:
My parents were always very supportive of me and the louder music I played back when I was a teenager which included music from their generation. With their encouragement and support, I played constantly, eventually developing my own style. Each member of my family had their own musical abilities. My dad played saxophone in a band during high school and later began playing the guitar. My mom has played the piano most of her life, especially since my grandfather was a jazz pianist and owned a piano store. I've mentioned already that my brother plays bass guitar and now he's added the drums into his performance. My older sister plays piano as well and still has the old classical guitar she took a few lessons on. Last but not least, my younger sister Libbie Linton is a very talented singer songwriter and has released music of her own, solo and in a band called Mideau.
MD:
Which musicians have had an effect on your own musical inspirations and why?
RL:
One of my favorite artists growing up was Cat Stevens. I remember listening to the music as my Dad played
Tea for the Tillerman
and
Catch Bull at Four
. I loved the music from
Mona Bone Jakon
. I discovered more of the music from this album from the movie
Herald and Maude
. Another guitarist I tried to emulate was Jimmy Page. I would do my best to play along with the music of Led Zeppelin on my guitar, trying to pick a part the sections of each song and put it all together. Songs such as "Bron- Y- Aur", "Black Mountain Side" and "The Battle of Evermore". One of my favorite things to listen to was how they would express the individual notes while picking through the chords. This is something that is evident in my own compositions.
MD:
Many assume that your impressive recording debut was the 2006 Will Ackerman produced
Whisperings at Nightfall
when in reality it dates back to 2003's stripped down debut
Pale Shades
. How many years of compositions did this cover? Also was this album self produced?
RL:
I started composing songs from my album
Pale Shades
while in high school in the late 90s. I had my first experience recording while putting these songs on a demo in 2001. I eventually went back into the studio to re-record these tracks with sound engineer John Carter. I was proud of the work John and I had done on the album yet when I had the opportunity to work with Will Ackerman at Imaginary Road Studios, I wanted to make another attempt at recording these songs.
MD:
You followed up your debut effort with 2005's
Within The Outline
which once again featured your unassuming compositions and playing but this time you sought help from Ken Kruckenburg with regard to the sound. What motivated you to seek outside help?
RL:
I had a great experience working with John Carter yet I think it was all exploration and discovering what another sound engineer had to offer.
MD:
Your first two recordings were stripped down from packaging to performance but they were solid recordings. Have you had any thoughts on revisiting and repackaging them?
RL:
Honestly, I haven't. I guess I've been more focused on reworking the tracks from these albums than re-releasing them. My performance style has come a long way since then and I play the songs from
Pale Shades
and
Within The Outline
slightly different these days. They are an important part of my discography and I'm not saying I've completely moved on from them. I think there will be a time in the future in which I will revisit these albums.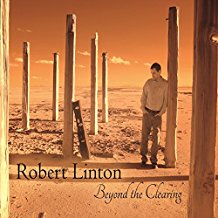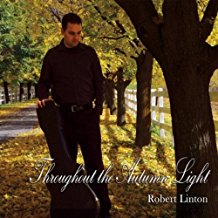 MD:
As previously mentioned the 2006 Will Ackerman produced
Whisperings at Nightfall
appeared to be your watershed moment spring boarding you into the musical arena, However Ackerman's name was not prominently featured on the front and back sleeve of the cd. Was this intentional?
RL:
This wasn't intentional at all. Will provided the guidance I needed as a young artist. He boosted the confidence in my performance and I learned a lot from working with him in the studio. He steered me in the right direction, humbly helping me to achieve something great with
Whisperings at Nightfall
.
MD:
The album was the first time to feature other artists as you also brought in some of Ackerman's A Team studio players. Why the modification?
RL:
Will's production on
Whisperings at Nightfall
was superb. I had envisioned adding accompaniment to my guitar and he made it happen. Witnessing these artists perform in the studio was quite the experience. I enjoyed layering the guitar on the earlier releases, yet I felt these artists took my recordings to another level.
MD:
The album also included revisiting some of your compositions from your prior albums of which 3 were "Candlelight", "Wait Until Then" and "Moonlit Rainfall" featuring only you and your guitar. How much re-recording took place on these 3 particular songs?
RL:
"Moonlit Rainfall" was a newer track I had written for
Whisperings at Nightfall
. The other two Will and I felt stood well on their own. Since I was slightly altering the way I had originally recorded the tracks, it took a bit more time with the recordings. I remember only doing a couple takes on the original recordings for
Pale Shades
and
Within the Outline
where as I did a few more for us to work from on
Whisperings at Nightfall
. Corin Nelsen had been engineering at the time and had done an outstanding job putting it all together.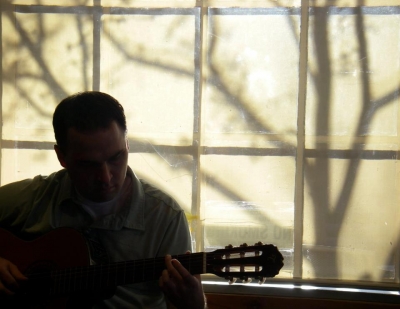 MD:
"Field Of Lilies" included 4 additional players as well as Mr. Ackerman himself yet once again it is stripped down until about the 3:30 mark when your guitar work is embellished by your co-conspirators. However you still avoid any overindulging and nor do you allow Ackerman to overstate his technical DNA. In fact it is even reflected by the black and white photography. How come and was this intentional?
RL:
Will and I would map out each song before diving into the recording. He didn't want to overpower my performance and created a gentle touch with the layering. It was a perfect balance really, his guitar and mine. He did the same with the other instrumentation, having it flow in and out over the guitars. The outcome was incredible and I was thrilled to have Will add his performance to one of the tracks on the album. When it comes to the black and white photography, this was more about the album title, as the colors fade and shadows are cast.
MD:
Despite the watershed 2006 recording it took you 5 years to follow up the effort with the co-produced effort with Ackerman's engineer Corin Nelsen entitled
Throughout The Autumn Light
. Why the alteration and why so long a wait?
RL:
I think I was letting things sink in with the release of
Whisperings at Nightfall
. Five years is a large gap between releases, yet I was making new discoveries with promotion.
Whisperings at Nightfall
landed me an opportunity to record some guitar tracks for Harpo Productions. Also, the year following the release of the album, I went out on the road to perform which I had never done prior to the release. The first tracks for
Throughout the Autumn Light
were written around 2008 or so. I started recording the new tracks in late 2009 and through most of 2010. Will provided a lot of encouragement and I had gained the confidence to try things out on my own with
Throughout the Autumn Light
. Corin's proficiency in editing, mixing and mastering is evident on the 2011 release and all the albums we've done together. I'm grateful for what he and Will have done for me.
MD:
This particular album was my first introduction to your music and I cannot lie that it almost got overlooked as at times it is unassuming good music that sometimes get passed over in our world of immediate gratification. The album includes revisiting two of your debut album tracks that in fact closed out your debut and likewise here in the form of "Sweet Dreams" and "Evening Sunset". Why?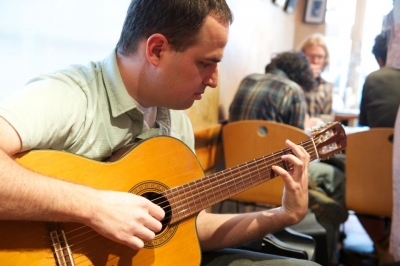 RL:
I realize with music these days, there are listeners that look for immediate gratification. I prefer my album affects the listener with every song. They absorb the album from start to finish. I've always found song placement on my albums to be very important and I had the same thought in mind with
Pale Shades
and
Throughout the Autumn Light
. "Sweet Dreams" and "Evening Sunset" to me were like the final lullabies before drifting off completely into sleep. I would hope the listener finds my music to be a time of reflection yet also relaxation.
MD:
The year 2016 resulted in you releasing
Beyond The Clearing
that showed no re-visitation of prior recordings. Was the album title a way of stating all new compositions or did you have another theme in mind?
RL:
So, truthfully there was one track I used on
Beyond the Clearing
that was pulled from a past album and that was "A Distant Storm", which was originally titled "Midnight Storm" from
Within the Outline
. Even though the original foundation is there, the newer version had a life of its own, so I retitled it. Like many other artists in the New Age, Instrumental genre, I'm highly inspired by the beauty within nature. The title
Beyond the Clearing
came about from this especially, the peaceful and reflective moments of a distant view. This reference is made in "A Distant Storm" and "Stretching Across the Horizon". I remember at a younger age, seeing the power and beauty in a distant storm yet felt the comfort of knowing I was safely far away from it. I would also feel a sense of curiosity, thinking about what lies beyond the clearing.
MD:
The album also focused more on duets with certain session players yet was probably you're most embellished album and accessible recording to date though these terms should be used lightly. Was that your intent and do you like the concluding results?
RL:
I was thrilled with the concluding results, especially the layering that had been accomplished with the violin and cello. On this album, I purposefully left open portions of the songs with the intent of giving plenty of space for the guest artists to perform. This can be heard on "Beneath the Cloudless Sky" in which Jeff Pearce draws out the hauntingly beautiful notes. There is one note in particular about a quarter of the way into the song that sounds as though the wind is carrying it, then fades quickly as being blown away. I plan on doing the same with my next album, having every track allow for accompaniment.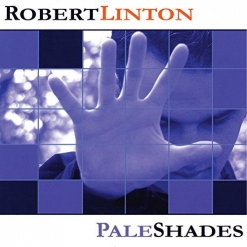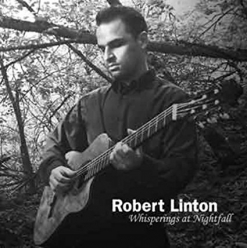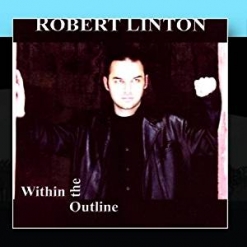 MD:
It took you 5 recordings to finally feature a piano collaboration found on "Gathering Over The Surface" with pianist Heidi Breyer. Had you been intentionally avoiding this particular instrument? Also why did you pick Heidi Breyer to complete this task?
RL:
Heidi is a brilliant pianist and I was honored to have the opportunity to work with her. In past albums, I was hesitant to layer piano over the guitar because I was unsure of how the notes would blend with the guitar. When working with a cello or violin, the notes are sometimes drawn out. Heidi did a superb job of adding just the right touch. The instruments glide together, which works well with the title. Leaves gliding, lifting and gathering over the surface. I may end up bringing piano back into the new release as well. I can already hear it with the rough guitar tracks that have been recorded.
MD:
The album also features the delightful Sara Milonovich on violin which includes the gorgeous title track that may be your most melodic effort to date. What inspired this particular piece of music?
RL:
Sara's performance on this track is sublime. She has incredible talent and I'm happy to be working with her. I plan to reach out to her again for the new release. I keep coming back around to this as my inspiration but really the beauty I experience in the mountain valley I live in drives much of my music. I love observing the changes that happen throughout the year, even in the darker days of winter. I like to think my music can provide a soundtrack to the beauty that surrounds, possibly enhancing the moment. I want that beautiful scenery to come back to mind when my music is heard.
MD:
While your recordings have showed small progressive steps to enhance your guitar work, you have never stepped away from the pastoral themes of your early recordings. Is there a motivating factor beyond the music to stay with this theme?
Robert:
I think my style of performance has uniqueness. I'm always looking to discover new ways to shape chords, use alternate tunings and fingerpicking patterns. Even with these discoveries, I always stay close to my roots. The listener will know it's me playing whether it's my first album or most recent. I found something I love and plan to stick to it.
MD:
That said, if you could record a full collaborative recording with just one musician who would it be and why?
RL:
This is a tough one, I'm very fond of all the musicians I've worked with. There was a reviewer who once said he would be interested in hearing a full album done with me and Jeff Pearce. I would agree, I really admire his performance and the music he's released over the years. I'll bet he and I could come up with something great if this were to ever come to fruition.
MD:
From a technical aspect what kind of guitar do you use and if there is a preference that attracts you to that brand?
RL:
For quite a few years now I've been playing a Takamine (TC132SC), nylon string classical guitar. It's been great for the studio and live performances. It has a nice clarity in the tone and resonates well. The CTP-3 Cool Tube creates warmth and richness. Overall the guitar helps me to reveal the subtleties in my music. The shape of the body, the cutaway, are what I prefer in the look of a classical guitar.
MD:
At lot has changed in the musical industry with a physical tangible product being slowly replaced by downloads. Do you think this has helped or hindered your musical career or the musical industry in general?
RL:
I think it's helped my music career. Companies such as CD Baby, The Orchard, iTunes, etc have all been around from when I released my first album. These sources among others have helped me greatly to spread my music to listeners all over the world. As a musician releasing music, I didn't experience the music industry during the time when CDs, vinyl, cassettes, etc. dominated in sales. Things were shifting quickly during the 2000s and my music was going along for the ride. Being a new artist, it was nice to jump in and see where it would take my music.
MD:
Are you in a position to share some of plans over the next year or so?
RL:
I'm looking forward to the new year and what's to come with the new release. Corin Nelsen and I have been working together for over ten years now and I'm grateful to be working with him on this next album as well. I plan to bring back some of the instrumentation I've used on
Beyond the Clearing
and reach out to some of the artists I've worked with. Besides the new album, I've had the idea in mind of possibly doing a few Christmas recordings at some point. Some traditional while mixing in a few of my own compositions. Not fully sure on when this will happen yet hopefully not long after the new album.
Mainly Piano would like to thank Robert Linton for taking the time.